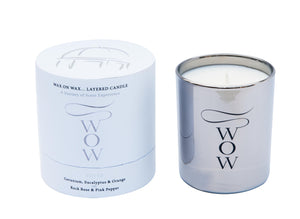 The WoW journey starts with an uplifting and invigorating mood created by the stimulating properties of geranium and eucalyptus. This blends beautifully with the sweetness of Rock Rose and Pink Pepper to refresh and energise your day.
The WoW Moment, when the top layer of fragrance combines with base layer, is extraordinary. Burn quality, perfect
WoW Silver: An inspiring journey of scents.
Candle size 30cl. Burn time 40 hours (approx 20 hours per layer)