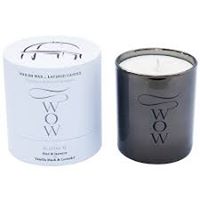 WOW PLATINUM OUD & JASMINE ON VANILLA MUSK & LAVENDER
£30.00
The WoW journey starts with Oud & Jasmine, a deep, sensual, indulgent fragrance which calms the mind, strengthens the power of thought and de-stresses. This blends into the relaxing and soothing velvety fragrance of Vanilla Musk & Lavender.
The WoW Moment, when the top layer of fragrance combines with base layer, is extraordinary. Burn quality, perfect.
WoW Platinum: A silky, smooth journey of scents.
Candle size 30cl. Burn time 40 hours (approx 20 hours per layer)