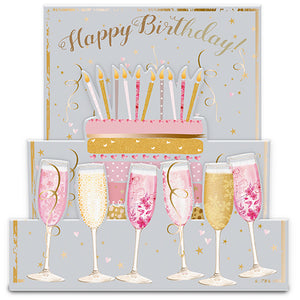 HAPPY BIRTHDAY (ZIGZAG)
CODE: FP9008
Presentation: This is a die cut, zigzag greeting card which comes with a white 100gsm envelope and is wrapped in a cellophane.
Paper Type: Matt Textured Die Cut
Artist: Karen Tye Bentley
Size: 6 x 6" : 152x152mm folded (152 x 532 fully extended)
Interesting information: A stunning zigzag card! (This card is not part of the multiple offer).