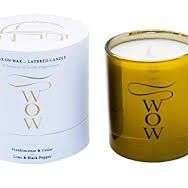 The WoW journey starts with the luxurious woody fragrance of Frankincense and Cedar, offering rejuvenating and uplifting aromatherapy benefits, which beautifully transcends into the zesty and invigorating properties of Lime & Black Pepper.
The WoW Moment, when the top layer of fragrance combines with base layer, is extraordinary.
WoW Gold: An uplifting journey of scents.
Candle size 30cl. Burn time 40 hours (approx 20 hours per layer)