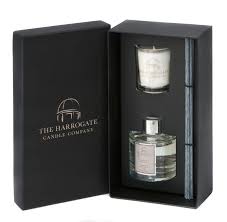 Allow yourself to dissolve into our stunning DIVINE fragrance – a deep, sensual, warm mood with this fantastically rich fragrance. Perfect for creating the right mood for your evening, with friends, your special person or simply a perfect treat when on your own.
This wonderful gift set of 100ml Reed Diffuser and 10cl Candle makes the perfect gift for any occasion.
Fragrance: The relaxing properties of sandalwood oil and the musky tones of amber create a deep and rich fragrance which lingers divinely.
Two tempting treats presented beautifully in our gorgeous boxes. Fill your home with our amazing fragrances instantly, with this lovely candle and diffuser duo set. Our Mood Duo's will simply delight your loved ones and friends and will show them just how much they mean to you! Available in each of our unique and adorable fragrances.
Diffuser Volume: 100ml, Candle Size :10cl