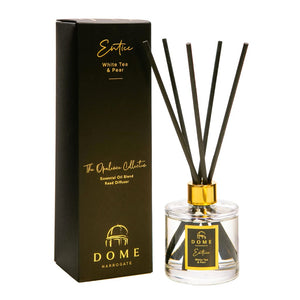 Enhance your mood and excite your senses with this enticing blend of fresh crisp White Tea & Pear. Rich and tingly, this fragrance is beautiful for any room in your home, and for simply spritzing up your life.
A stylish and practical way to fragrance any room, this stunning reed diffuser is a great alternative to candles. Simply pop in the reeds and allow the beautiful fragrance to be diffused around the room.
Presented in gorgeous black & gold packaging, our Opulence Collection is a stunning 'just-for-me' gift or a beautiful treat for someone else.
Volume 200ml. Usage time: 6-9 Months