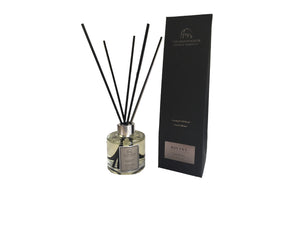 DIVINE DARK AMBER & SANDALWOOD REED MIDI-DIFFUSER
Fall in to a Divine world and become wrapped in the heavenly scent of Sandalwood.  Dark Amber and Sandalwood combine perfectly to create a rich, sensual fragrance that fills your senses, and your home, and provides the perfect ambience for you to relax and unwind after the stresses of the day. So, sit back, unwind and give in to relaxation.
A stylish and practical way to fragrance any room, this stunning reed diffuser is a great alternative to candles. Simply pop in the reeds and allow the beautiful fragrance to be diffused around the room.
Volume 100ml. Usage time: 4-6 Months