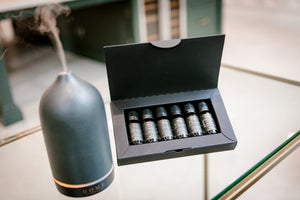 PRE-ORDER ONLY...
This stunning Mood Pod, for use with the Mood Oils, instantly diffuses the gorgeous aromatherapy fragrances safely around your home. The black Dome ultrasonic ceramic diffuser is stylish and elegant and emits a soft warm glow to aid relaxation. Blending perfectly with any decor, the Mood Pod diffuser will make your living space feel like a haven of calm as it disperses your favourite Mood fragrance around your room.
Simply by adding water and a few drops of the stunning Mood Oils, it will, with the press of a button, release heatless and completely safe, fine scented mist into the atmosphere, stimulating your senses and enhancing your wellbeing.
It has an intermittent mist control, and will also automatically switch off when the water falls below a certain level, effectively complete safety and ideal for use around children and pets. Dimensions 85mm x 180mm approx. Water capacity 120ml. Voltage DC24V. Power 12W.
Beautifully presented in this stunning gift box, the Mood Oil Gift Set contains 6 of the beautiful essential oil blend fragrances. The Mood Oils have been made using the finest essential oil blends, each one carefully designed to enhance mood and home. Mood Oils are the perfect partner with the Mood Pod. Simply add 5-10 drops of oil to the water in your Pod and enhance your state of wellbeing with the perfect Mood Oil just for you.
Each set contains 6 x 10ml bottles of Happy, Inspire, Lovely, Divine, Dream and Orange & Cinnamon.
Expected delivery time is 3-4 weeks